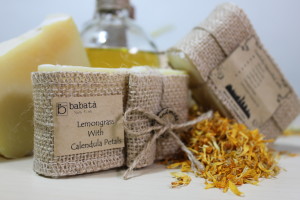 Passionate for finding solutions to her child's mild case of eczema, Myrna Cunanan set off in a mission to provide a solution to this ailment. As a stay at home mom, she noticed that the skin of her daughter is very sensitive and would get skin inflammation from ordinary soap. After trying different variants of mild soap available in the market and recommended by dermatologists, she still could not find one that would suit her child's condition. And when she learned that eczema cannot be cured and the only way to live with it is to manage it, Myrna decided to create a homemade soap for her and her baby's use.
Not wanting to risk the safety of her child, Myrna enrolled in a soap-making course in upstate New York. It was not an easy journey to create the soap she needed but with every failure, she kept on updating the process and never gave up. With countless hours of experimentation and practice, she was finally able to create a natural soap formula that worked for her daughter and was also good for her personal use. The soap formula was mild and suitable even for very sensitive skin. The natural handmade soap kept her daughter's skin moisturized and lessened eczema occurrence. Wanting to share her natural formula, she let her husband use the soap and it was also effective for his acne, oily skin and pimple scars. It left the skin clean and moisturized that there is no need to apply lotion after each bath and the acne scars are slowly fading from his consistent usage of handmade natural soaps. That was when Myrna truly felt the desire to continue her passion for soap-making.
Now, Myrna cannot resist the urge of making more soap variances with different flavors and scents. For her, each time she spends making soap is enjoyable and she puts her heart and soul into hand-making each bar. With the careful eye and hands that only a mom with a mission can have, she makes soap to
share with other families in the hopes of also providing a solution to their skin conditions like eczema, pimple, acne, different skin type or simply a soap that's good for daily use. Babata Handmade Soap variances are safe as she has New York State Qualifying Food Safety Certificate, nourishing and wonderful for the whole family as it handcrafted with love and care using the finest oils and ingredients from local suppliers. 
Myrna uses her Hotel & Restaurant Management degree plus a decade of Retail Managerial skills to provide quality products and services to their customers. Now that Babata Handmade Soap are tremendously growing, her husband Percival Cunanan joined her to meet the demands of new  and loyal customers. He provides all the marketing, sales and promotions including managing the graphics and web, product photography, online stores, packaging, deliveries and Press releases. 
As an experienced educator and a nature lover, he loves to share to people that even in a very simple way of choosing and buying soaps, one can take part of taking care our environment. From the collaboration of Myrna and Percival, they managed to create 100% Biodegradable soap packaging which will not harm Mother Earth. Unlike over the counter and branded soaps, handcrafting BABATA HANDMADE SOAP do not require huge factories and machinery that emits harmful gas and industrial wastes which in fact are not good to animals and our environment; plastic  that causes litters that mostly goes to drainage, sea and ocean; and other high valued chemicals they include in their soap that user cannot even pronounce. 
Combining all the natural ingredients, small-batch handmade processes of making soaps plus 100% biodegradable packaging, the BABATA HANDMADE SOAP's Eco-friendly and user-friendly soap was created — the birth of BEST HANDMADE SOAP. Babata Handmade Soap has now a mission to educate people about the great benefits they will get from using quality and best handmade soap and each and every individual's SOCIAL RESPONSIBILITY! 
"It is not just how cheap or how branded your soap is, it is a matter of natural skin benefits you got … most importantly, your small decision to get a share in taking care of the environment …."
"HAVE YOUR SHARE!"